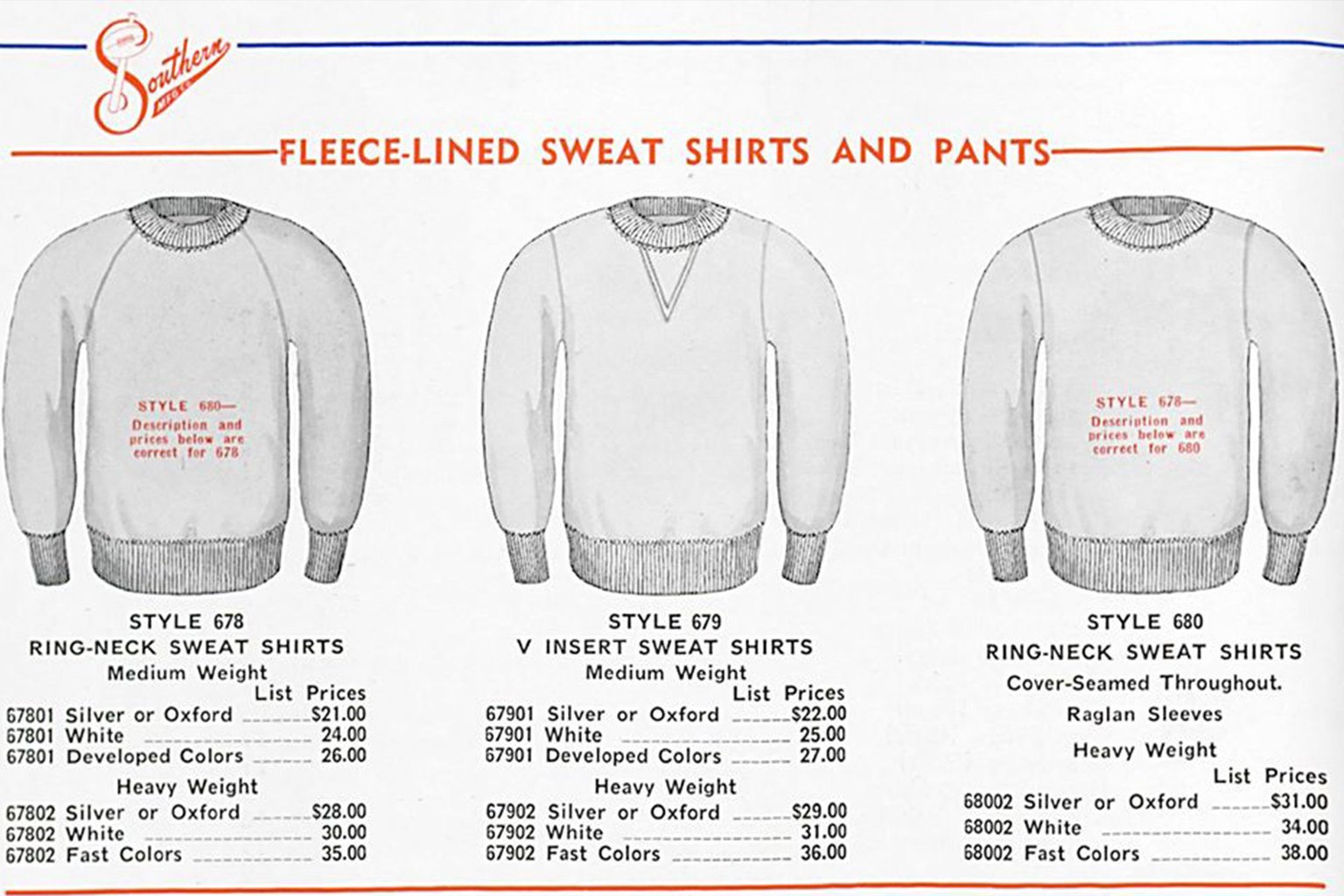 Versatile enough to be worn any time of year, the classic crew neck sweatshirt is one of those rare clothing items that has become a crucial piece of all-American wardrobes. Ever wonder where it came from? Though it's regularly updated and reinvented, the first crew neck sweatshirt will never go out of style.
WHO INVENTED THE SWEATSHIRT?
The original sweatshirt was invented by Benjamin Russell Jr., a football player in 1926. It began with the new idea for an all-cotton practice football jersey. Tired of itchy wool jerseys, the son of founder Benjamin Russell thought to swap out the chafing uniforms with something cooler and more comfortable.
After going to his father with the idea, Russell Sr. made his son's idea a reality and Russell Athletic was born. Knowing the comfort and durability of cotton, the iconic crew neck sweatshirt began production in the Russell Athletic mills in 1930.
WHY IS A SWEATSHIRT CALLED A SWEATSHIRT?
It's true that sweatshirts are great at keeping wearers warm, but as they were typically cotton practice jerseys back in the day, the 'sweat' part of the word comes from their origins on the field. So, what is a sweatshirt used for today? Sweatshirts are still used for their original purpose as comfortable athletic wear, but they are also worn for staying warm in cooler temps, repping a collegiate team, or layering to form a fashionable outfit.
HOW HAS THE SWEATSHIRT CHANGED OVER THE YEARS?
The original sweatshirt invented is most similar to what we call a crew neck sweatshirt, as is shown by the small v-notch around the collar. This thicker, triangular piece of cotton was the signature detail for simple crew necks that helped collect sweat and control the stretching of the collar after years of wear. Today, the crew neck sweatshirt lives on as a loose, long-sleeved, collarless pullover. This cotton jersey tends to fit closely with elastic cuffs and is commonly worn during athletic activity.
Not too long after Russell Athletic invented the sweatshirt, the hoodie came along. The same technology and details were then stitched with a hood.
While rich in history, over time the sweatshirt has expanded from just athletic wear to a versatile fashion piece. It's all about how you rock it.
WHERE TO BUY SWEATSHIRTS THAT EMBODY OUR HISTORY
While you can find sweatshirts from past collections in the closets of fashion collectors and thrift stores across the United States, over 100 years later we are still stitching garments that stay true to the original sweatshirt from 1926.
Our Heritage Fleece Crew Sweatshirt embodies the same soft fleece lining and athletic detailing as the first sweatshirt invented. Find more styles in our sweatshirt collections: