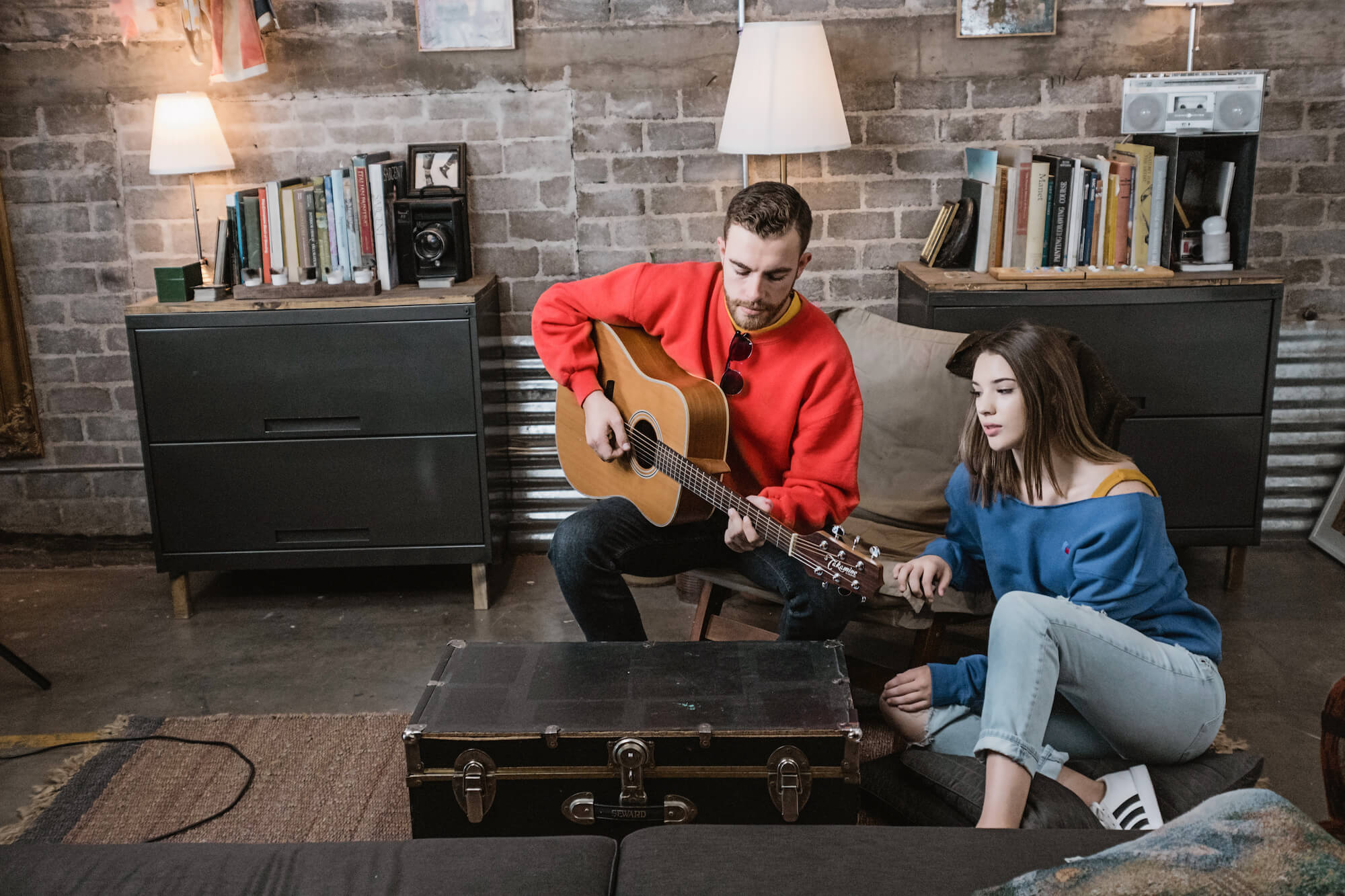 DIY SWEATSHIRT GUIDE: CUTTING, DISTRESSING, AND MAKEOVER IDEAS
There are many different types of sweatshirts available, but for some, these don't fulfill the look they're going for. At Russell Athletic, we encourage the creative hustle. We love when you go beyond the boundaries of the norm to create a look that's unique to you. Whether you just bought a new sweatshirt or found one at your local thrift store, make #RAYourWay with our DIY Sweatshirt Guide.
Have a specific look in mind? Navigate to the selection below:
HOW TO CUT A CREW NECK SWEATSHIRT OFF THE SHOULDER - 80s STYLE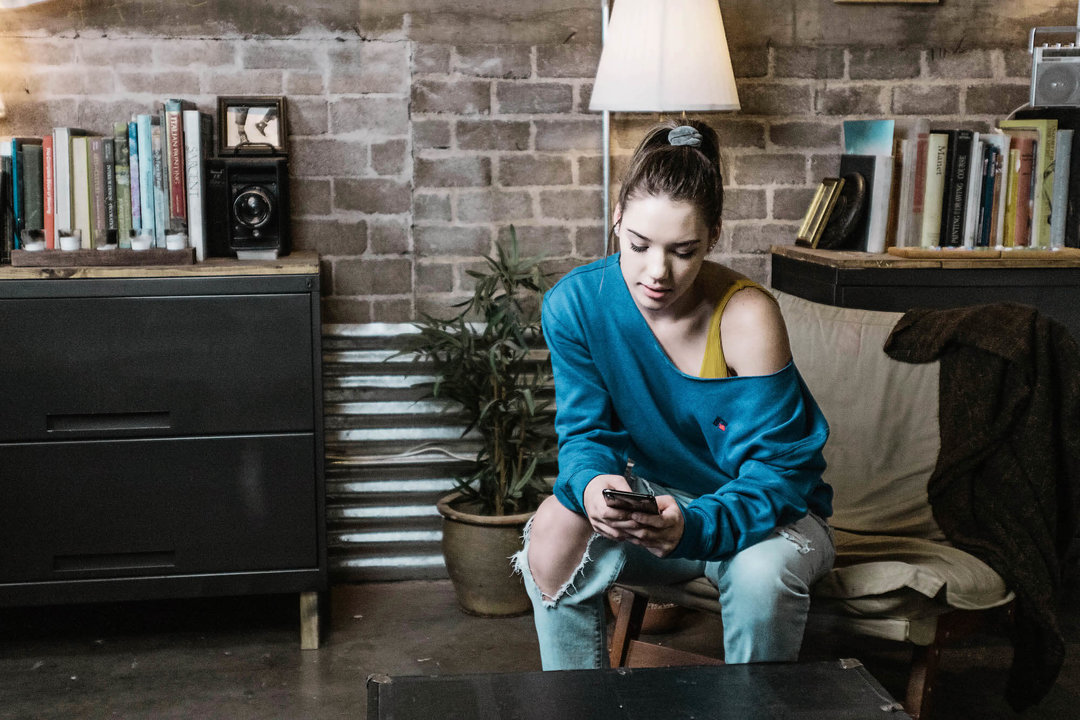 As the Inventor of the Sweatshirt, we understand the itch to create something of your own. This throwback DIY is the perfect look for your everyday style, or if you want to spruce something up for an 80s themed event. Off the shoulder tops is a timeless piece and a must-have in every wardrobe. In minutes, you can make your old sweatshirt new again with a totally retro look. If you're still in the process of finding a sweatshirt to make your own, opt for a crew neck sweatshirt—they're easier to work with when making cuts than a hooded sweatshirt. Follow these steps to cut the top of a sweatshirt off the shoulder:
Flatten out your sweatshirt by using an iron. Removing all wrinkles will help to make an accurate marking along the collar.

Fold the sweatshirt over halfway. Double check to make sure that all the seams from the collar and sleeves are aligned. Inserting a few pins will help keep everything lined up.

Use a fabric pen or chalk to draw a line along the collar. Begin making your mark at least 2 inches outside the edge of the collar. End the line at the fold of the sweatshirt, which is 1 inch beneath the collar. If the material is light or sheer, use a dressmaker's pen. For heavier, dark clothing, dressmaker's chalk works best. If you don't have either, then a washable marker will work just fine.

Cut away the marked off portion of the collar. With a slow and careful hand, cut through the fabric. While cutting both layers at once is quicker, an easier alternative is to cut one layer at a time. If spots show up from the marker once you're finished, you can remove them by washing the sweatshirt.
HOW TO CUT THE BOTTOM OF A SWEATSHIRT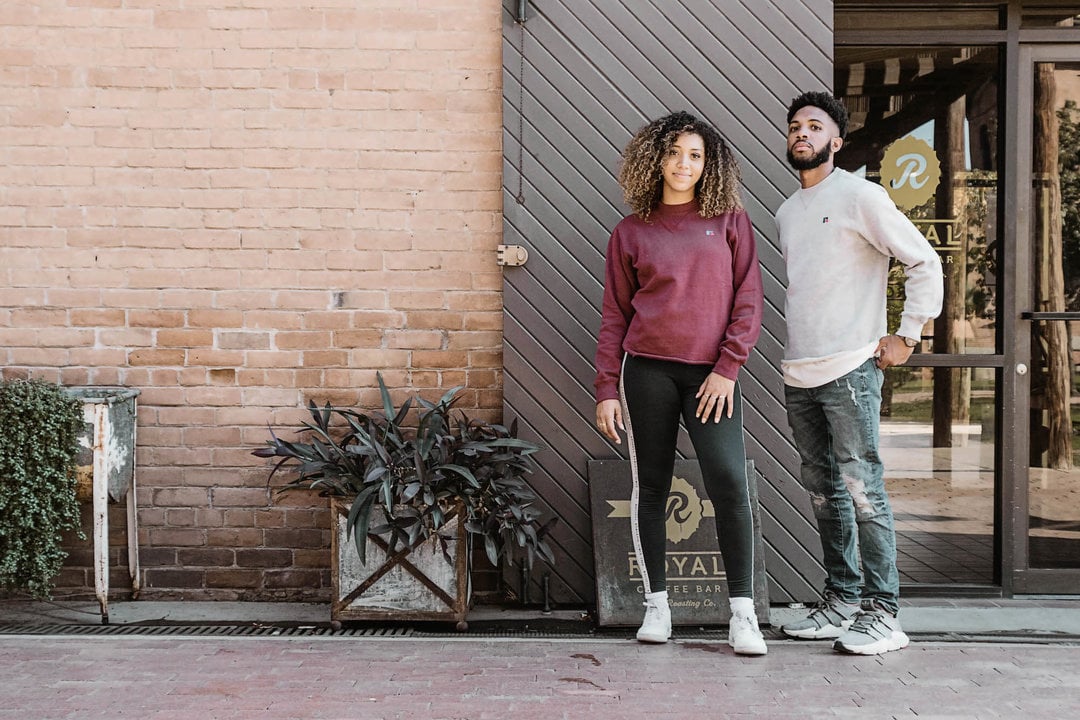 An unfinished bottom can add a touch of flair to an outfit, especially when paired with high-waisted pants. If you'd like a more dramatic cut, refer to the crop top cutting instructions. While a bottomless banded sweatshirt is commonly worn by females, males shouldn't be afraid to blur the lines of traditional style. Here's how you can cut the bottom of your sweatshirt:
Find a hard, flat work area. Put your sweatshirt on a level surface area, like a countertop or hardwood floor.

Iron out the bottom portion of the sweatshirt. Ensure that all creases and folds are smoothed out.

Draw above the stitched band of the sweatshirt. Be sure to make the marking 4-5 centimeters above the hemmed lining. Follow along the bottom with a fabric pen and ruler. If you don't have a fabric pen, then a marker or piece of chalk will work too.

Cut off the excess fabric using scissors. Carefully cut across the line you've drawn while being cautious of keeping the fabric as even and flat as possible.
HOW TO CUT A CREW NECK SWEATSHIRT INTO A CROP TOP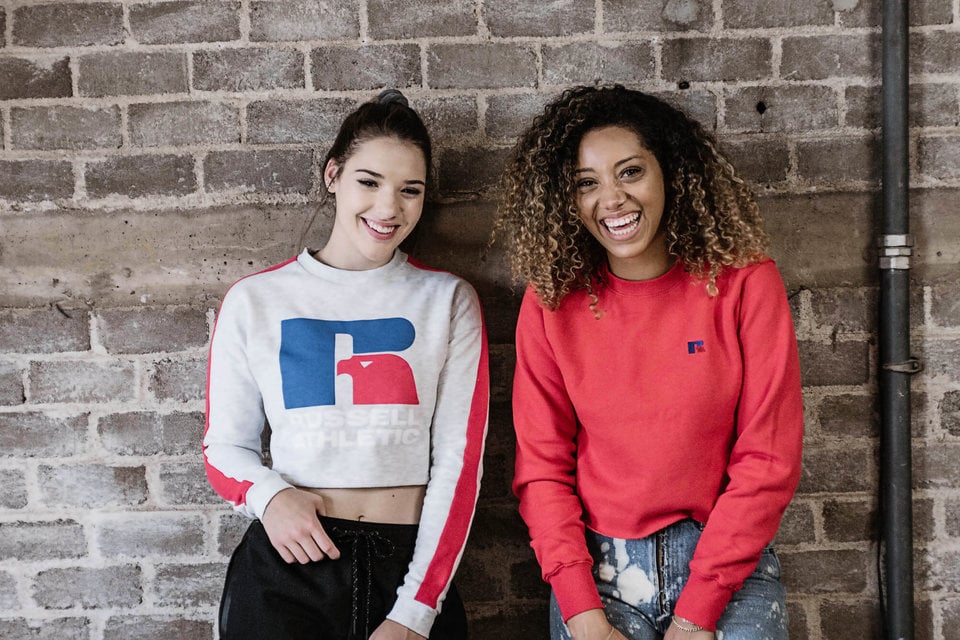 Cutting a sweatshirt into a crop top can transform a garment with basic style into something you can wear for comfort and out with friends. Similar to a raw cut hemline, a cropped sweatshirt brings an edgy taste to an otherwise average outfit. Use these instructions to cut a sweatshirt into a crop top:
Place the sweatshirt on a clean, flat area. Put your piece on a smooth, flat surface area, such as a countertop or hardwood floor.

Draw out a line across your desired cut off section. Use a fabric pen or chalk along with a ruler to draw across the part that you want removed. To find your correct length, hold the sweatshirt up against your body or try it on, then make a few small marks. Once you're done, use a ruler or straightedge to join the markings with a line.

Use a pair of shears to cut over the material. Make sure that your sweatshirt is smooth and free of any wrinkles before cutting. Next, cut over the line you made from the previous step. Be sure to cut slowly and steadily. To avoid an uneven length, try not to push up the material as you go along.
HOW TO DISTRESS A SWEATSHIRT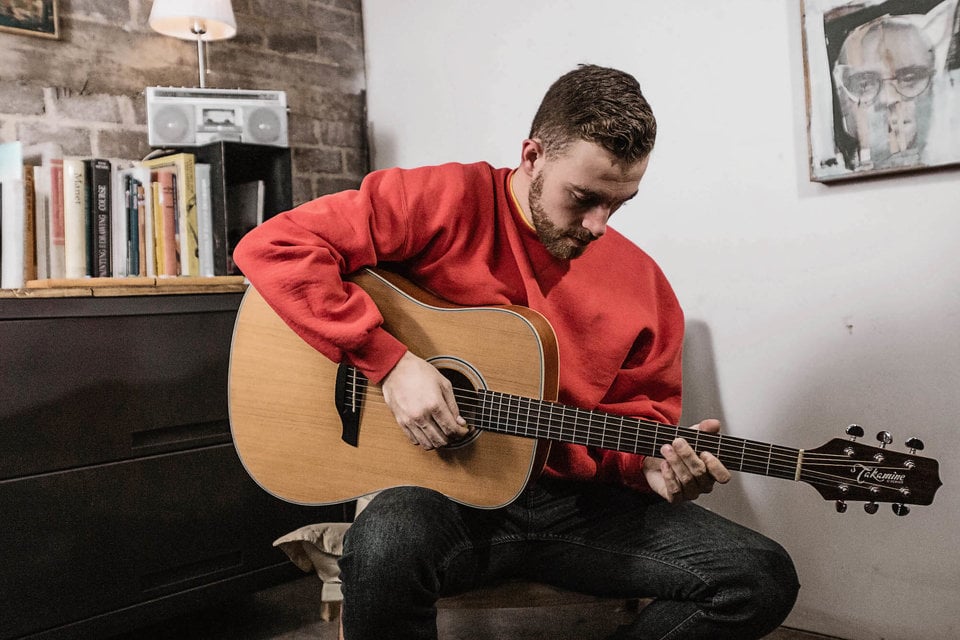 The clothes you wear should be like you—one of a kind. Express your individuality and turn heads the next time you rock a sweatshirt with a worn-in look that can't be replicated. Fading and distressing are often confused, fading a sweatshirt entails lightening the color of the sweatshirt while distressing involves breaking up the materials. If you're looking to fade a sweatshirt, skip to the next section. If you want to distress your sweatshirt, follow these steps:
Decide what areas you want to have the alternate texture. Go for areas that would become worn naturally over time, such as the seams near the side, shoulders, and neck.

Put your hand inside the sweatshirt for support. Place it beneath the area you want to look more weathered.

Lightly rub the fine-grain sandpaper against the area your hand is supporting. Be gentle at first and apply more pressure if you want more contrast.

For a touch of tears, rub a small section against a cheese grater along the smallest side of the grater. Be careful you don't get too carried away here. Your sweatshirt should look lived-in, but not sloppy.

Repeat on any other areas as needed. Be sure to apply the same amount of pressure on each area for even results.

To distress sweatshirt graphics, scrape a razor over the graphics. This will ensure the graphics on the sweatshirt match the distressed look of the fabric itself.

To add more depth, fill a small spray bottle with bleach and spritz the sweatshirt. Be sure to lay down newspaper underneath the sweatshirt to protect the surface underneath. When spraying, the closer you are to the sweatshirt, the larger blots you'll have. If you want to create a cloud-like effect, spray the sweatshirt from a greater distance.
HOW TO FADE A SWEATSHIRT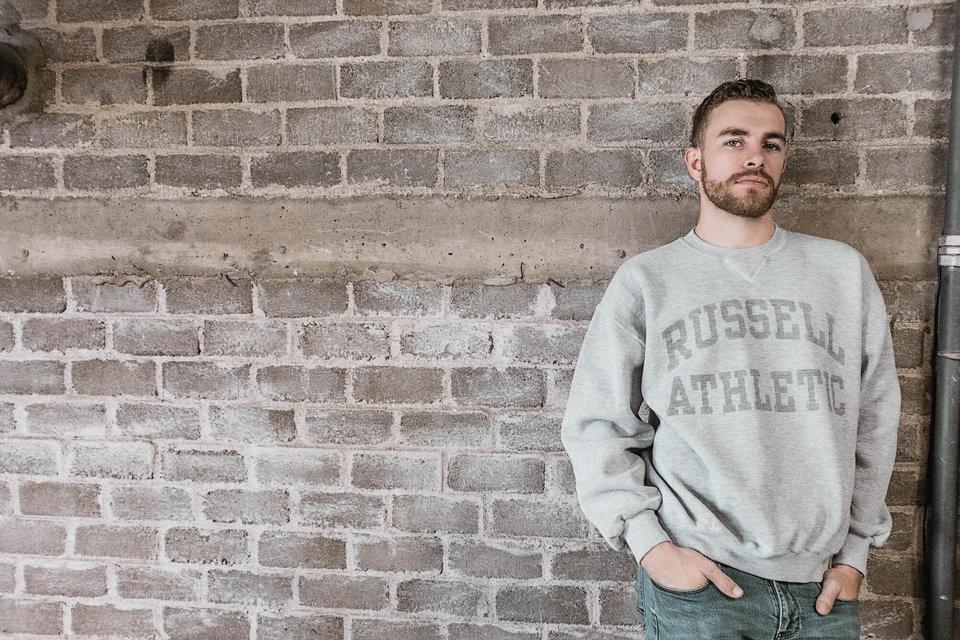 Nothing says comfortable and classic like a sweatshirt with the faded look. Whether it's your go-to for an easy night in, your old reliable for morning runs, or a bold emphasis on today's outfit, the look is timeless. There are two methods to fading a sweatshirt, with and without bleach. Here's how to use both:
Choose a brightly-colored sweatshirt. Bright colors like pastels are a great option to tone down.

Fill a large plastic container with one cup of bleach for every gallon of water.

Add the sweatshirt to the container of water and bleach and stir well. Make sure that the top is getting an even soaking for an even fade. (Be sure to wear gloves.)

Allow to soak. Stir every 3-5 minutes.

Remove shirt after 30-45 minutes. This will vary based on how faded you want the sweatshirt to get, so keep an eye on it.

Rinse the shirt in water and then wash it. Be sure not to wash it with any clothes that you don't want faded.
For a more blotched look, you can mix water and bleach into a spray bottle and spray the mixture directly onto the sweatshirt prior to washing it. (See How to distress a sweatshirt)
Wash the sweatshirt in hot water with a quarter cup of baking soda, and one cup of regular iodized salt. This mixture will tone down the color and is less likely to cause accidental damage than a bleach solution.

Repeat washing with this solution until achieving the desired softness and faded coloring. This method may require a few cycles to get it just right.
Learn more from the Inventors of the Sweatshirt:
Not everyone enjoys the DIY method of creating a style they envision. That's why we include a variety of cuts, colors, and washes in our sweatshirt collections. Explore our men's and women's sweatshirt collections to find a staple that works for your wardrobe. With roots in the first sweatshirt to ever be created, our sweatshirts tell a story that you can't find elsewhere.