Back
Little League® and Russell Athletic® Team Up to Launch New Online Uniform Builder Site, LittleLeagueUnifroms.com
Little League® and Russell Athletic® Team Up to Launch New Online Uniform Builder Site, LittleLeagueUnifroms.com
New website makes uniform design quick and easy while offering high-quality baseball and softball uniforms
SOUTH WILLIAMSPORT, Pa. and BOWLING GREEN, Ky., May 19, 2015 -- Little League® and Russell Athletic® today announced a partnership to transform the way local Little League programs design and order their uniforms. The newly launched LittleLeagueUniforms.com will be a one-stop-site where coaches, league administrators, and parents can order team uniforms. The website will be the only uniform generator on the web that will include the Little League official Keystone patch with each order.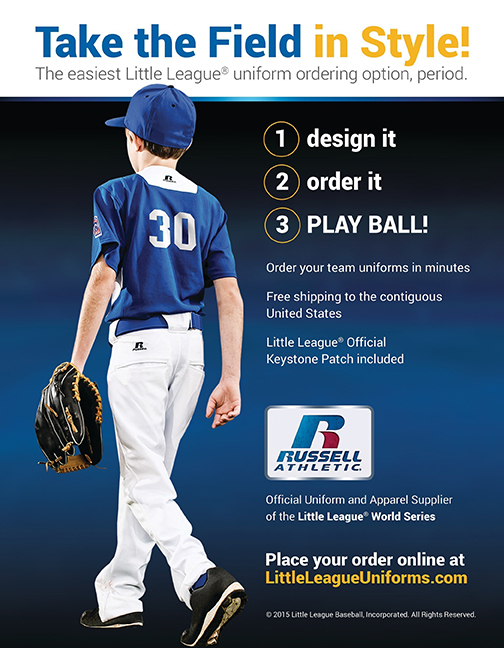 Until now, Little League teams lacked a simplified online system to quickly design and place group orders of uniforms. Using LittleLeagueUniforms.com will provide convenience and ease of purchase for Little League coaches, managers, and parents everywhere by simplifying the team uniform ordering process, greatly reducing the workload for those local volunteers ordering uniforms.
The site will allow teams to customize the proven high-quality apparel that Russell Athletic® has outfitted Little League World Series competitors in for more than 30 years. All uniforms will include the appropriate Little League official Keystone patch for all divisions of Little League Baseball and Softball pre-sewn onto the jerseys in the appropriate location to meet all Little League regulations. This unique, new licensing project from Little League and Russell Athletic, was led by Fermata Partners, Little League's official retail licensing agent.
LittleLeagueUniforms.com will leverage a new online platform and enable uniform ordering in three easy steps:
Step 1: Choose team name and selection of league patch
Step 2: Design team uniform
Step 3: Place orders online
"We are very excited to launch a website that provides our leagues an easy-to-use portal to create quality uniforms, complete with Little League patches for their players," said Liz DiLullo Brown, Little League Vice President of Marketing and Strategic Partnerships. "The uniform and the patch are symbols of affiliation and distinction for our program, and for millions of Little Leaguers around the world, wearing their Little League uniform creates a feeling of belonging and global camaraderie with other boys and girls wearing these same patches in more the 80 countries. We're excited to offer our local Little League programs a website that provides a turnkey uniform offering from our trusted partner, Russell Athletic."
The platform is currently limited to the United States, but will expand internationally in the future to continue Russell Athletic's mission of supplying the highest quality materials to Little League teams around the world.
Teams can begin ordering uniforms from LittleLeagueUniforms.com. For more information follow Little League and Russell Athletic® on Facebook, Twitter and Instagram.
About RUSSELL BRANDS, LLC
For more than 100 years, Russell Brands, LLC, has supplied America's athletes and teams with the latest innovations to help them perform at their best and is a leading supplier of apparel and team uniforms at the high school, college and professional levels. Russell's collegiate licensed products and athletic wear are broadly distributed and marketed through department stores, sports specialty stores, retail chains and college bookstores. For more information, please visit www.RussellAthletic.com, Facebook and Twitter.
About LITTLE LEAGUE
Little League® Baseball and Softball is the world's largest organized youth sports program, with 2.4 million players and one million adult volunteers in every U.S. state and more than 80 other countries. Founded in 1939, more than 35 million people around the world, from a U.S. president to community leaders to professional athletes, can call themselves Little League graduates. And every year, millions of people follow the hard work, dedication, and sportsmanship that the Little Leaguers display at our nine baseball and softball World Series events, the premier tournaments in youth sports. For more information, visit LittleLeague.org, or follow Little League on Facebook (facebook.com/LittleLeague), Twitter (twitter.com/LittleLeague), and Instagram (Instagram.com/LittleLeague).
About FERMATA PARTNERS
Fermata Partners, based in Atlanta, is a specialized consumer products licensing agency that partners with brands possessing deep affinity in sport, lifestyle, and college to formulate global licensing strategies and deliver practical execution. The firm has assembled a diverse team with deep experience in the collegiate licensing industry as well as licensing for other sports and lifestyle brands. For more information on Fermata Partners, please visit www.fermatapartners.com.